Mediterranean Corridor: this is the name of the railway network that will connect Algeciras with France throughout the Mediterranean, and which is 25 years behind schedule. An infrastructure that will allow us to travel faster and more frequently and that will boost the economy through freight transport and tourism and, therefore, more jobs will be created by promoting employment.
What cities does the Mediterranean Corridor cover?
The Mediterranean Corridor encompasses the main cities on the Mediterranean coast. Among them are the ports of Algeciras, Cartagena, Alicante, Castellon, Valencia, Tarragona and Barcelona.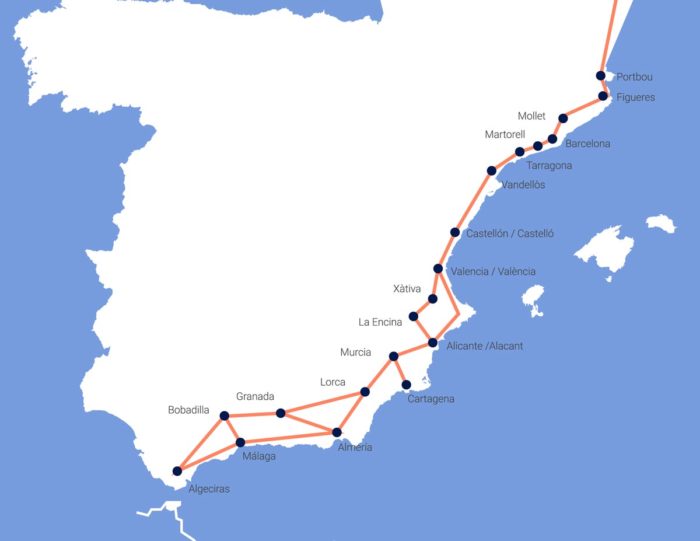 Why is the Mediterranean Corridor so important?
On the one hand, there would be a rail connection with the Mediterranean ports of Spain. This would translate into cost savings, in addition to the ecological benefits that would be obtained.
On the other hand, we would have the junction of an Algeciras-Stockholm axis. This network reaches 3,500 km and connects around 245 million inhabitants that represent around 66% of the European GDP.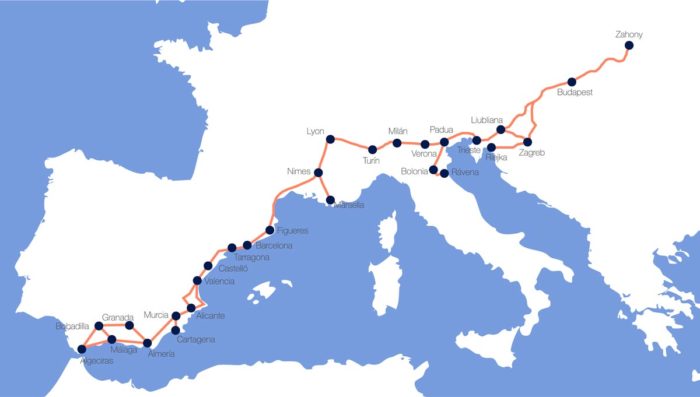 In short, we would have an important logistics network that would connect maritime transport with land transport.
What has caused the delay?
The European Union already declared this project as a priority 10 years ago. However, the project accumulates significant delays up to 25 years. This is because the level of execution of the sections is very different from one another. In addition, some sections are still unconfirmed.
And although the current Ministry of Transport has terminated some works, such as the section that connects the border of France with Figueres, the organization Quiero Corredor demands the double track from Portbou to Figueres to be converted from Iberian to international gauge. The same happens with section 2 that extends to Girona. Thus, it would be possible to avoid transshipments at the border.
Other problems also delay the path to completion. An example is access to the Port of Bacercelona, ​​which, after three agreements, still continues to limit access for goods because it has not been implemented.
When are the works expected to be completed?
The railway project has already had different completion dates, but none have yet come to fruition. At the moment it is estimated that its completion will take place in 2030. 2026 is the deadline imposed by Brussels for the Almeria-France connection to work, with the subsequent 4 years to complete the works of the Algeciras network.
Sources: